We are happy to inform you that all of our themes are not fully supported with WHMCS latest version 7.9.
Our latest and most in demand Croster WHMCS CMS theme is now more powerful with some new exciting features. Now it has live colour scheme editor to get desired colour scheme in no time. The Croster has almost everything of Clouder along with more advance options which make every website unique, It includes page manager for easy contents management as it was never that simple before. It collects all pricing, plans directly from WHMCS admin and many more..
We have also collaborated with WHMCS and offering WHMCS license  from $9.99  with Croster leased license.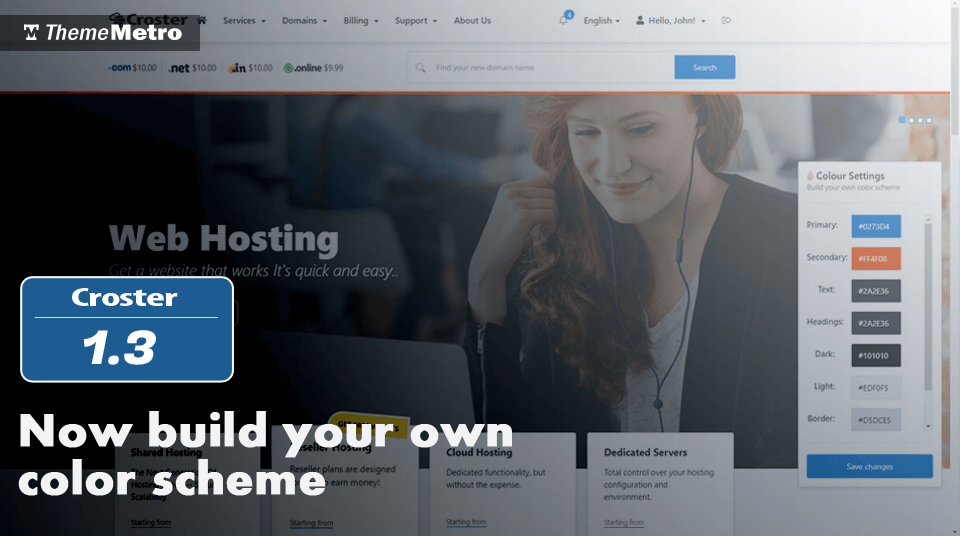 Croster 1.3 changelog
New Features & Improvement -
Unlimited colour scheme- Now build your own colour scheme by Live Colour Settings Panel. All other other pre build colour schemes have been removed.
 UI updates, Most of select options converted into radio buttons for easy management.
Text Editor section is now more powerful, now simply copy and paste video code, Google map code and other things which you want.
Pricing section improved in design along with more features, now you don't need to select billing cycle also from page manager as those will also get collected from WHMCS admin Product& Services. Monthly Pricing Breakdown option also working in pricing table blocks.
Added more options, now you can enable/disable box shadow effect and border radius for website.
Two more styles added for pricing tables featured banner.
Added more options for Product Group section, now it collects Product Tagline, Headline.and features as list automatically if those are available in whmcs product & services Group settings.
Slider auto play enable/disable option added.
 Improved page SEO option, added Twitter card along with OG options.
 For security reason the OG images location has been changed to /assets/folder of WHMCS, now you need to move all images from uploads folder to assets folder, then you need to select OG images again in Page Manager for all pages. 
Optimised css styles for fast loading by removing unused css codes.
Improved Client area tables now all full row is clickable.
Bug Fixed-
Fixed all reported and known bugs of page manager.
Footer Menu Manager external menu items not working.
Header Menu Manager child menu class not adding.
Global customs CSS issues.
Language and currency dropdown menu issue in front end.