We are extremely excited to release much awaited new version of Croster v2.0. The Croster is now based on whmcs Twenty One. We have redesigned almost all whmcs pages with lots of improvements to make them more user friendly and with modern look for a refreshed look.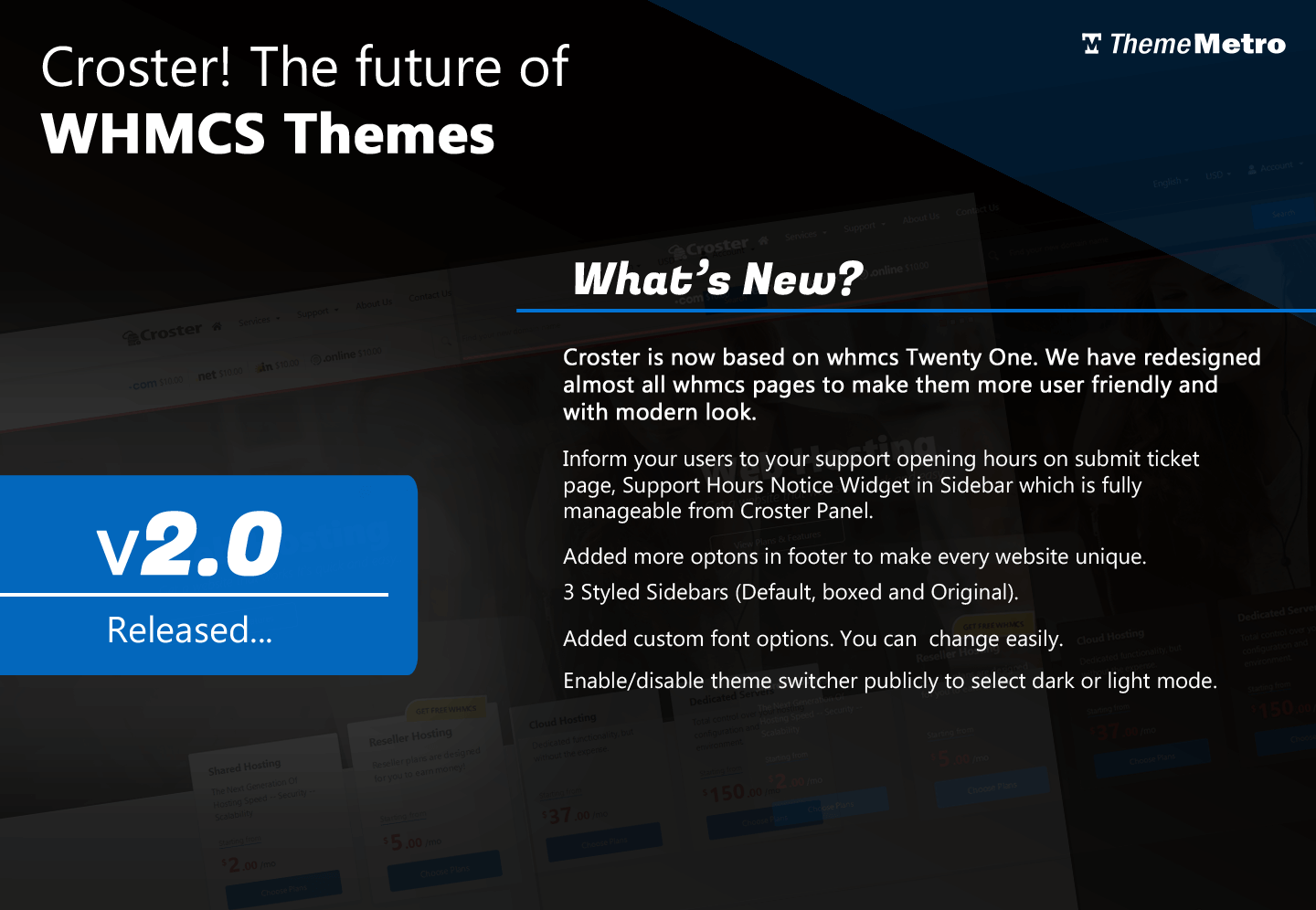 Have a look at all the features, improvements and bug fixed in Croster v2.0
Added - Support Hours Notice Widget in Sidebar which is fully manageable from Croster Panel.
Added - 2 more features styles. Now use image instead of icon.
Added - enable or disable home icon in side menu for left layout and mobile menu style (default is disabled).
Added - Meta description in announcement article also page title same as announcement title.
Added - Custom font option in Croster panel.
Added - Enable/disable theme switcher publicly to select dark or light mode.
Added - Now possible to overwrites all section/block tpl files.
Fixed - Sitemap wizard minor bug, To fix regenerate the sitemap.
Fixed - Payment gateway wizard bug, in some installation its throwing error after update.
Fixed - Multiple billing cycle pricing table order links when single page checkout is enabled.
Fixed - Comparison plan pricing table bug in order link.
Improved - in Promo banner message now you can use simple HTML tags.
Improved - Can switch billing cycle pricing style (single/multiple) in plan comparison styled pricing tables also.
Improved - Footer is now more customizable with widgets and multi columns.
Improved - Secondary navbar included user name and email address in dropdown.
Single Page Checkout order form.
Added - Can disable custom name server fields for domain registration.
Fixed - Domain registration: Error message not hide after changing TLDs.
Fixed - Adding product addon from product/service page.
Fixed - Free Domain option still showing when None is selected.
Fixed - Domain transfer EPP Code error message translation issue.